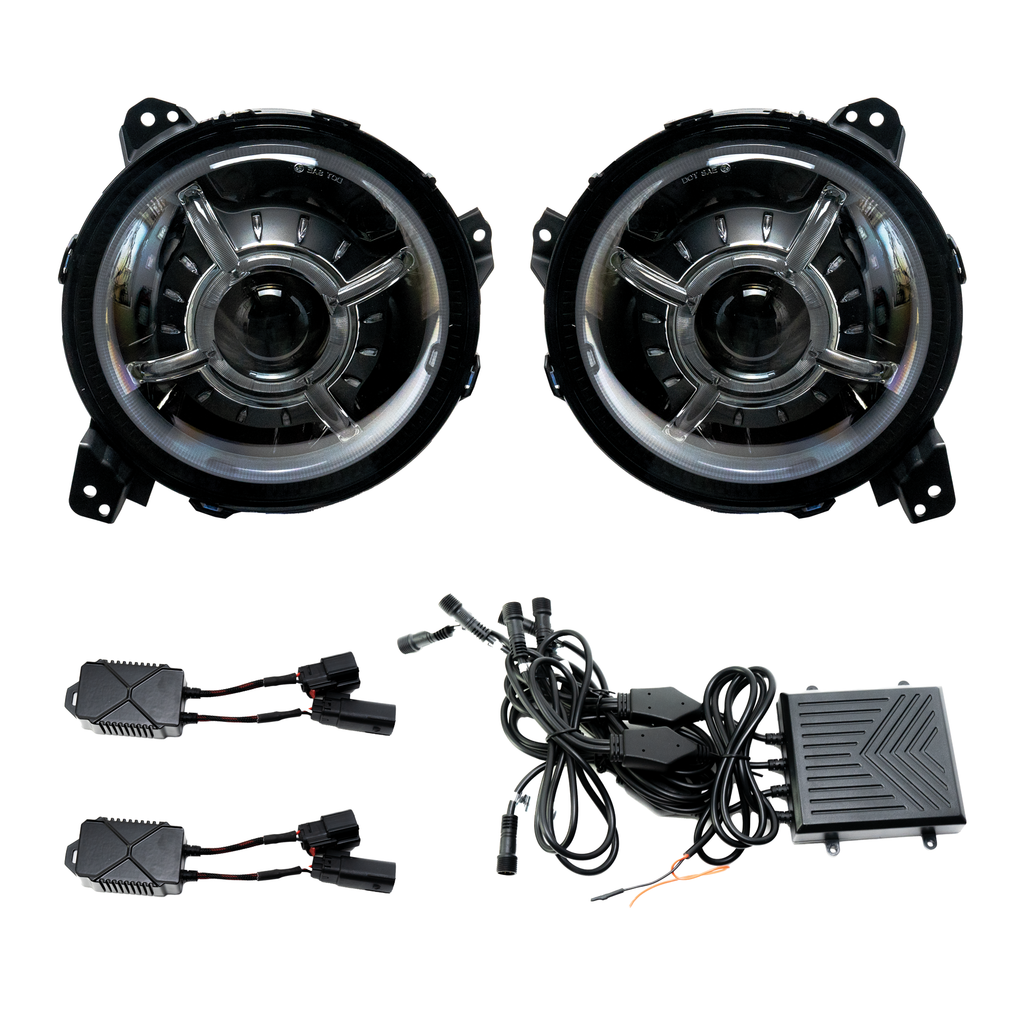 Introducing the revolutionary ERA Jeep JL, JT Headlights RGB Replacement Assembly, a top-of-the-line and state-of-the-art lighting solution engineered to elevate your driving experience to unparalleled heights. Expertly crafted with meticulous attention to detail, these headlights boast the perfect amalgamation of exceptional style, unwavering durability, and high-performance capabilities.
Features:
Advanced RGB Technology: Embark on a mesmerizing journey as you illuminate the road ahead like never before with our cutting-edge RGB technology. This innovative feature allows you to effortlessly customize the colour of your headlights, enabling you to match your vehicle's aura with your ever-changing personality and mood. Stand out from the crowd and make an unmistakable statement with a captivating array of vibrant colours that will leave onlookers in absolute awe.

Unyielding Durability: Engineered to thrive amidst the most demanding challenges on and off-road, the ERA Series headlights come fortified with an Impact Resistant Polycarbonate Lens. This rugged construction guarantees unparalleled durability, providing complete peace of mind even when navigating the most treacherous terrains and inclement weather conditions. Regardless of where your awe-inspiring adventures lead, these lights will be your unfaltering companion, consistently offering a crystal-clear and razor-sharp view of the path ahead.

High and Low Beam Projectors: Harness the power of the advanced High and Low Beam projector system, which ensures precise light positioning and impeccable output, maximizing visibility without ever compromising the safety of oncoming traffic. Designed and tested to meet and exceed DOT, SAE, and IP67 certifications, these headlights are the epitome of reliability, instilling the utmost confidence in your driving experience, regardless of the circumstances.

Astonishing Performance: With an awe-inspiring 100W output, the ERA headlights project an extraordinary High Beam luminosity of 6000 lumens, accompanied by an equally impressive Low Beam output of 3000 lumens. Experience an unparalleled level of visibility, especially during those dark and challenging nights when these illuminating marvels will serve as your unwavering guiding light.

Effortless Installation: Seamlessly tailored for compatibility with 2018 and newer Jeep JL models, the installation process is swift and straightforward. A user-friendly "plug and play" design means you'll be ready to embark on your illuminated journey in no time, enjoying enhanced visibility and an added touch of unmistakable style.

Unbeatable Warranty: At ERA, we firmly stand behind the exceptional quality and craftsmanship of our product. As a testament to our commitment to excellence, we offer a generous 3-year warranty, providing you with a lasting sense of security and assurance in your investment. Drive with unparalleled confidence, knowing that your headlights are backed by our unwavering commitment to your utmost satisfaction.
Elevate your Jeep's lighting prowess with the incomparable ERA Series Headlights RGB Replacement Assembly, and unlock a world of breathtaking style, unrivalled durability, and astounding performance. Illuminate your extraordinary journey like never before, and allow your Jeep to radiate with these high-quality, SEO-focused headlights, impeccably designed to exceed even the loftiest of expectations.
QUANTITY
2x 9 Inch Headlight Assemblies
WARRANTY
3 Years
COMPATIBILITY
2018+ jeep JL
WATTS
100W
LUMENS
High Beam 6000. Low beam 3000.
CERTIFICATIONS
DOT, SAE, IP67
CASE QUANTITY:
3
(2) Headlights
Industry Leading Warranty
Vivid Lumen Industries provides an industry-leading warranty on all products for manufacturing defects or product failure. If you have an issue with any product, please submit the online warranty form on our website. If your product is deemed defective in material or workmanship, Vivid Lumen Industries will issue an RMA number.
Please click here to file a warranty claim.