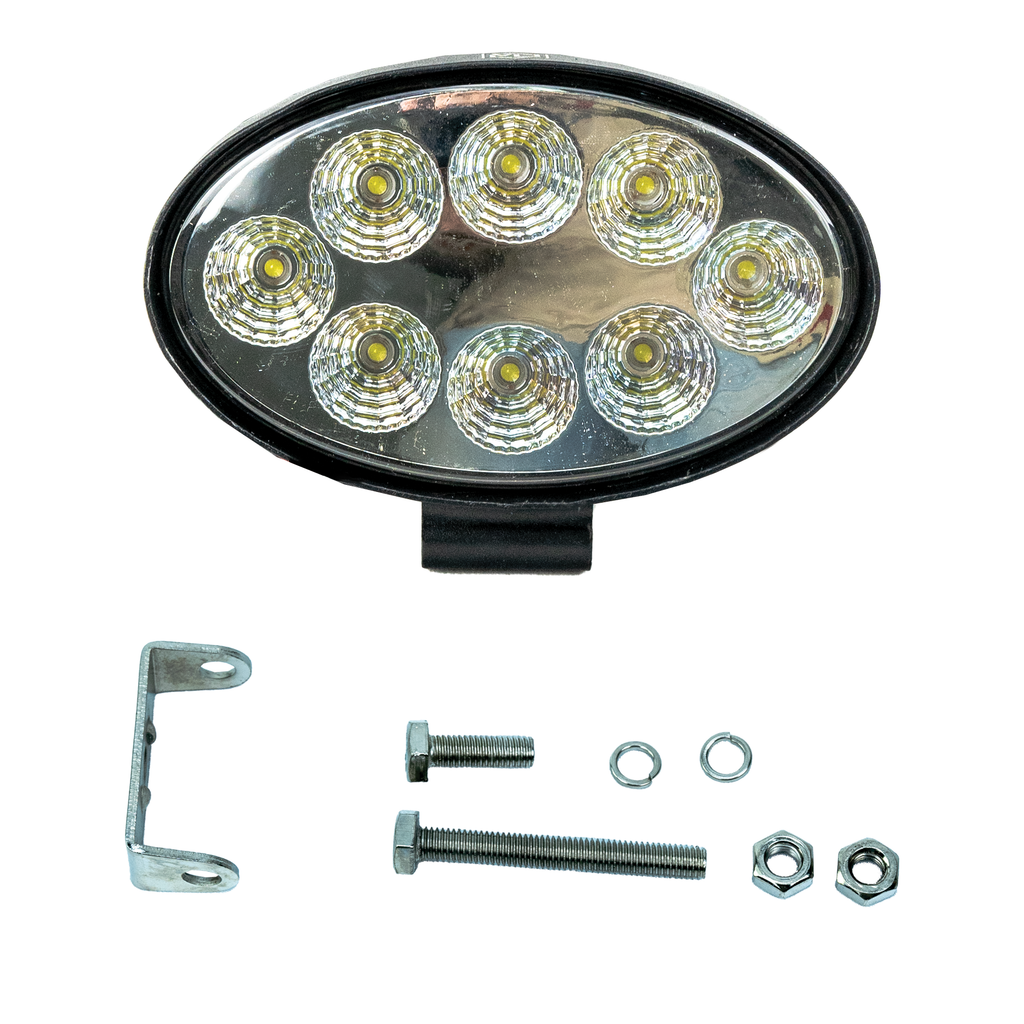 Introducing our Industrial 6" Oval LED Work Light Flood – the ultimate lighting solution for off-road adventures and demanding industrial tasks. With a rugged polycarbonate lens, high-intensity LEDs, and a wide flood beam, this durable work light delivers 1680 lumens of brilliant illumination. Backed by a Lifetime Warranty, it's built to last and excel in various applications. Upgrade your lighting game with this compact and versatile work light today!
Features
Built to Endure: With a focus on durability, this work light is constructed with a rugged polycarbonate lens, ensuring maximum protection against impacts, vibrations, and the harshest weather conditions. You can rely on this light to withstand the roughest terrains and challenging work environments, making it a steadfast companion for your off-road adventures.

Unparalleled Illumination: Our work light boasts high-intensity LEDs, delivering an impressive output of 1680 lumens. Experience unparalleled illumination that cuts through darkness like a beacon, providing you with unmatched clarity and visibility, and enhancing safety during nighttime operations or adverse weather conditions.

Wide Flood Optics: The Flood optics are strategically designed to cast a broad and even beam, effectively illuminating large workspaces or outdoor areas with consistent brightness. Whether you're working on a construction site, exploring remote trails, or conducting mining operations, this work light ensures every detail is brought to light.

Maximum Reliability: Engineered with blacked-out circuit boards, this work light gains an extra layer of protection against the intrusion of dust, debris, and moisture. The cutting-edge design ensures reliable performance, minimizing the risk of electrical malfunctions and extending the light's lifespan.

Defying Elements: Equipped with a pressure-equalizing vent, this work light effectively prevents internal condensation, preserving optical clarity and ensuring consistent performance, no matter the weather conditions. Rain or shine, this light will remain bright and functional, ready to take on whatever mother nature throws it's way.

Eco-Friendly Efficiency: We understand the importance of sustainable solutions, and that's why this work light is engineered to be energy-efficient, drawing only 18 watts of power. Embrace eco-friendly practices without compromising on performance, as this light significantly reduces your vehicle's overall power consumption.

Peace of Mind Warranty: Rest easy knowing your purchase is protected by a Lifetime Warranty. This commitment to quality reflects our utmost confidence in the superior craftsmanship of this work light. It's a testament to the enduring quality that will accompany you throughout countless journeys.

Compact and Versatile: Measuring at 5.75" x 3.5" x 2.4", this work light's compact design ensures easy installation on your vehicle or equipment. Its versatile nature makes it a perfect addition to service trucks, tractors, work trucks, excavators, forestry, and mining vehicles, catering to diverse industrial applications.
Conquer the darkness on and off the road with unwavering confidence. Choose the Industrial 6" Oval LED Work Light Flood for its superior performance, unparalleled durability, and a lifetime of dependable illumination. Upgrade your vehicle's lighting game and experience the extraordinary difference of this premium-grade lighting solution today.
QUANTITY:
1 Work Light
LUMENS:
1680
WARRANTY:
Lifetime
OPTICS:
Flood
WATTS:
18w
AMPS:
1.5 AMPS
DIMENSIONS:
5.75" x 3.5" x 2.4"
(1) Work Light
Industry Leading Warranty
Vivid Lumen Industries provides an industry-leading warranty on all products for manufacturing defects or product failure. If you have an issue with any product, please submit the online warranty form on our website. If your product is deemed defective in material or workmanship, Vivid Lumen Industries will issue an RMA number.
Please click here to file a warranty claim.
good
good light put on my truck , bright.