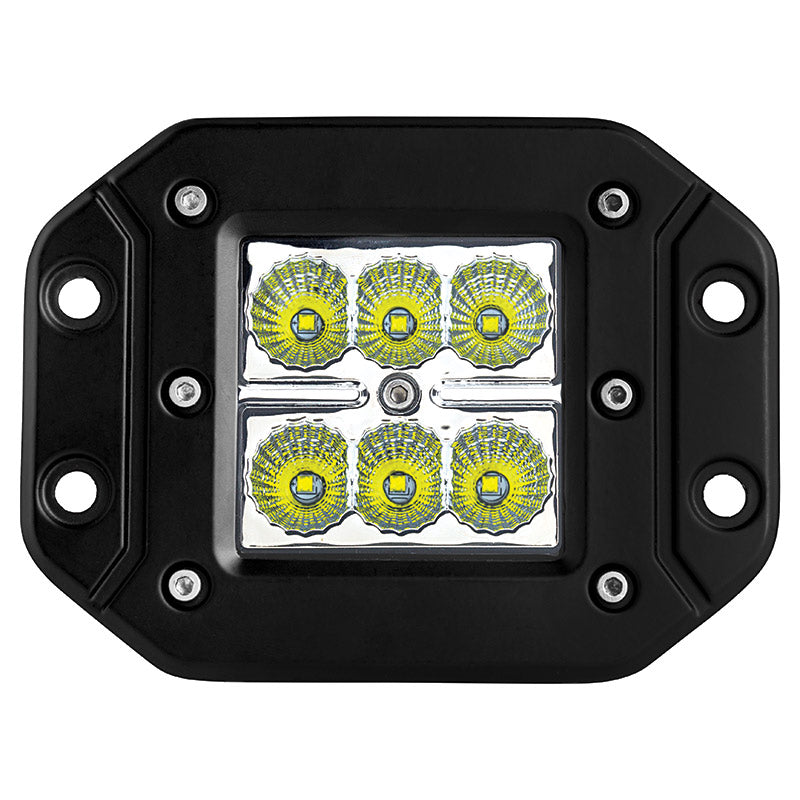 Introducing our Industrial 3" Flush Mount LED Work Light Spot - the perfect lighting solution for all your off-road adventures and work needs. With its durable polycarbonate lens, high-intensity LEDs, and spot optics, this compact light delivers an impressive 1500 lumens of focused brightness. It's energy-efficient, drawing only 18 watts of power, while its blacked-out circuit boards ensure reliable performance. Whether you're on service trucks, tractors, work trucks, or engaged in forestry and mining, this versatile work light will be your trusty companion. Illuminate your tasks with confidence and enjoy a lifetime of reliable performance with our Industrial Series.
Features:
Durable Construction: Our Industrial 3" Flush Mount LED Work Light Spot is built to endure the rigours of off-road use, thanks to its robust polycarbonate lens. This durable construction ensures it can withstand impacts, vibrations, and harsh weather conditions, making it a reliable companion for all your outdoor adventures and work tasks.

High-Intensity LEDs: Equipped with cutting-edge high-intensity LEDs, this work light delivers a powerful beam of light, providing an impressive 1500 lumens. Enjoy enhanced visibility even in low-light conditions, ensuring you can work efficiently and safely.

Pressure-Equalizing Vent: The Industrial Series is designed with a pressure-equalizing vent, which helps to prevent moisture buildup and fogging within the light, extending its lifespan and ensuring consistent performance over time.

Blacked-Out Circuit Boards: To enhance its durability and reliability, this work light features blacked-out circuit boards, safeguarding its internal components from potential damage caused by moisture, dust, or debris.

Spot Optics: The precise Spot optics deliver a focused beam pattern, allowing you to direct the light exactly where you need it most. This feature makes it perfect for tasks that demand accurate and targeted illumination.

Energy-Efficient: Despite its impressive brightness, this work light consumes only 18 watts of power, making it energy-efficient and environmentally friendly. It draws a mere 1.5 AMPS, helping to reduce energy costs without compromising performance.

Versatile Applications: Whether you're operating service trucks, tractors, work trucks, excavators, or engaged in forestry and mining activities, this work light is designed to excel in a wide range of applications, enhancing safety and productivity.

Compact Flush Mount Design: With its compact dimensions of 4.8" W x 3.6" H x 3.2" D, this LED work light is designed for easy flush mounting, making it a space-saving and aesthetically pleasing addition to your equipment or vehicle.

Lifetime Warranty: We stand behind the quality and reliability of our product, offering a lifetime warranty that reflects our confidence in its performance. Enjoy peace of mind knowing you're covered for any unforeseen issues.
Elevate your off-road experience and work efficiency with the Industrial 3" Flush Mount LED Work Light Spot. Its unbeatable combination of durability, brightness, and focused illumination ensures you can tackle any task with confidence. Trust in its outstanding features and invest in a lighting solution that will serve you for a lifetime.
QUANTITY:
1 Work Light
LUMENS:
1500
WARRANTY:
Lifetime
OPTICS:
Spot
WATTS:
18w
AMPS:
1.5 AMPS
DIMENSIONS:
4.8"W x 3.6"H x 3.2"D
(1) Work Light
Industry Leading Warranty
Vivid Lumen Industries provides an industry-leading warranty on all products for manufacturing defects or product failure. If you have an issue with any product, please submit the online warranty form on our website. If your product is deemed defective in material or workmanship, Vivid Lumen Industries will issue an RMA number.
Please click here to file a warranty claim.
Deadly light
Turn her on and she lights stuff up would definitely recommend