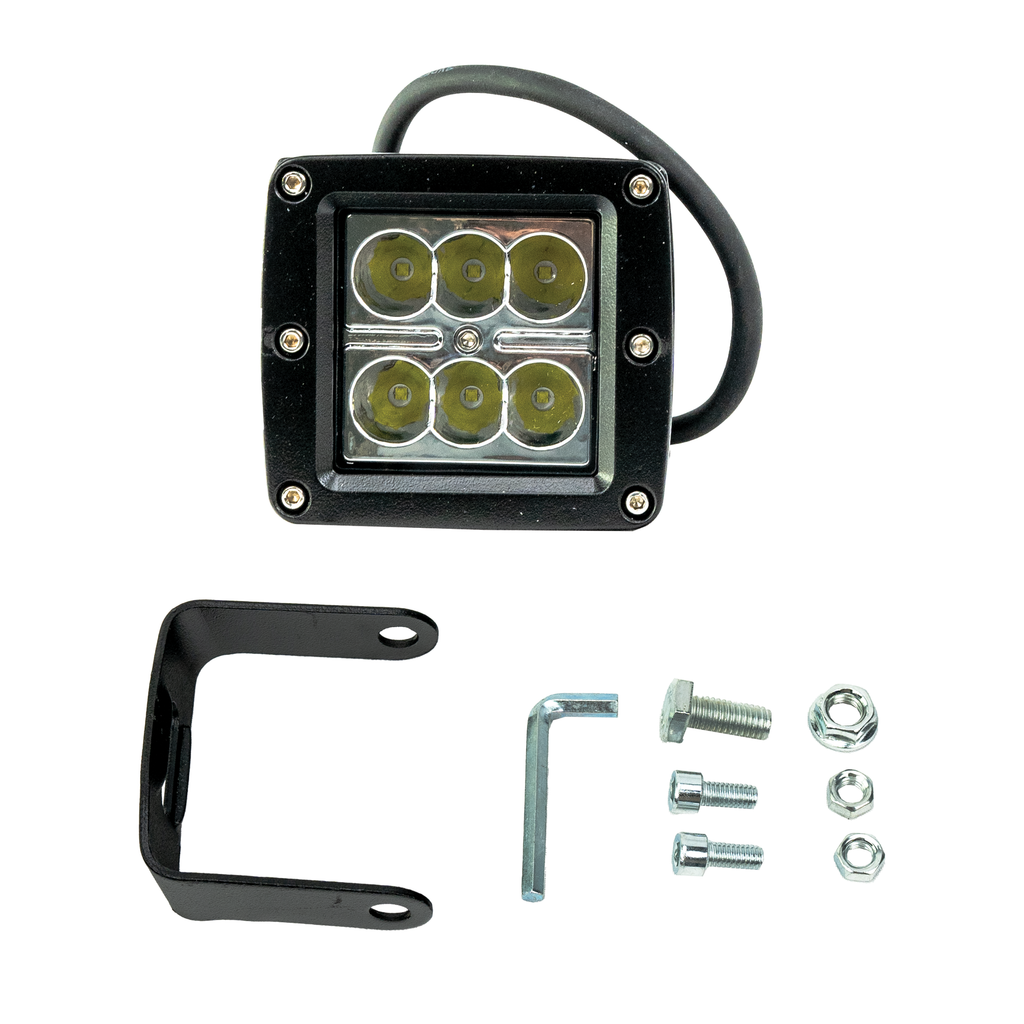 Introducing our powerful Industrial 3" Square LED Work Light – the perfect companion for off-road adventures and heavy-duty tasks. With a durable polycarbonate lens, high-intensity LEDs, and a flood beam for wide illumination, this light is built to withstand tough environments. Its compact size and easy installation make it a versatile choice for service trucks, tractors, work trucks, and more. Backed by a lifetime warranty, this energy-efficient work light guarantees reliability and top-notch performance. Illuminate your work area with confidence and efficiency using our Industrial Series Work Light!
Features:
Durable Construction for Demanding Environments: Built to withstand the rigours of off-road use, this work light boasts a robust polycarbonate lens and sturdy construction that can handle the toughest challenges, ensuring unparalleled durability and reliability in even the harshest conditions.

High-Intensity LEDs for Exceptional Illumination: Equipped with cutting-edge high-intensity LEDs, the Industrial Series delivers an impressive 1200 lumens of bright, clear light. This powerful illumination pierces through the darkness, providing superior visibility to enhance productivity and safety during your tasks.

Pressure-Equalizing Vent for Optimal Performance: The work light comes equipped with a specially designed pressure-equalizing vent, which not only keeps the internal components protected from moisture and dust but also ensures consistent performance by equalizing pressure changes caused by environmental factors.

Blacked-Out Circuit Boards for a Sleek Look: Elevating both style and function, the work light features blacked-out circuit boards, adding a touch of modernity to its appearance. Not only does it look impressive, but it also enhances heat dissipation, ensuring prolonged LED lifespan and reliable performance.

Versatile Optics with Flood Beam Technology: Engineered with versatile flood optics, the light provides a wide and consistent beam pattern, making it suitable for a broad range of applications. Whether you're working on detailed tasks or illuminating a larger area, this work light adapts effortlessly to your needs.

Energy-Efficient and Eco-Friendly Design: Designed with efficiency in mind, this 18W LED work light boasts a low draw of only 1.5 amps, making it not only powerful but also eco-friendly. Contribute to a greener environment while benefiting from exceptional lighting performance.

Compact and Easy-to-Install Dimensions: With compact dimensions of 3.25" x 3" x 2.75", this work light is ingeniously designed for seamless installation and integration into various vehicles and equipment. Its space-saving design ensures maximum functionality without compromising performance.

Lifetime Warranty: We believe in the quality and longevity of our Industrial Series Work Light, which is why we offer a lifetime warranty. You can rest assured that your investment is protected and backed by our commitment to your satisfaction.
Illuminate your workspace and conquer every task with unwavering confidence using our Industrial 3" Square LED Work Light. With exceptional durability, brilliant illumination, and a sleek design, this work light is the ultimate lighting solution for service trucks, tractors, work trucks, excavators, forestry equipment, and mining machinery. The Industrial Series is engineered to exceed expectations, ensuring you can tackle any challenge with ease and precision. Choose the Industrial Series and experience lighting excellence at its best.
QUANTITY:
1 Work Light
LUMENS:
1200
WARRANTY:
Lifetime
OPTICS:
Flood

WATTS:
18w
AMPS:
1.5 AMPS
DIMENSIONS:
3.25" x 3" x 2.75"
(1) Work Light
Industry Leading Warranty
Vivid Lumen Industries provides an industry-leading warranty on all products for manufacturing defects or product failure. If you have an issue with any product, please submit the online warranty form on our website. If your product is deemed defective in material or workmanship, Vivid Lumen Industries will issue an RMA number.
Please click here to file a warranty claim.