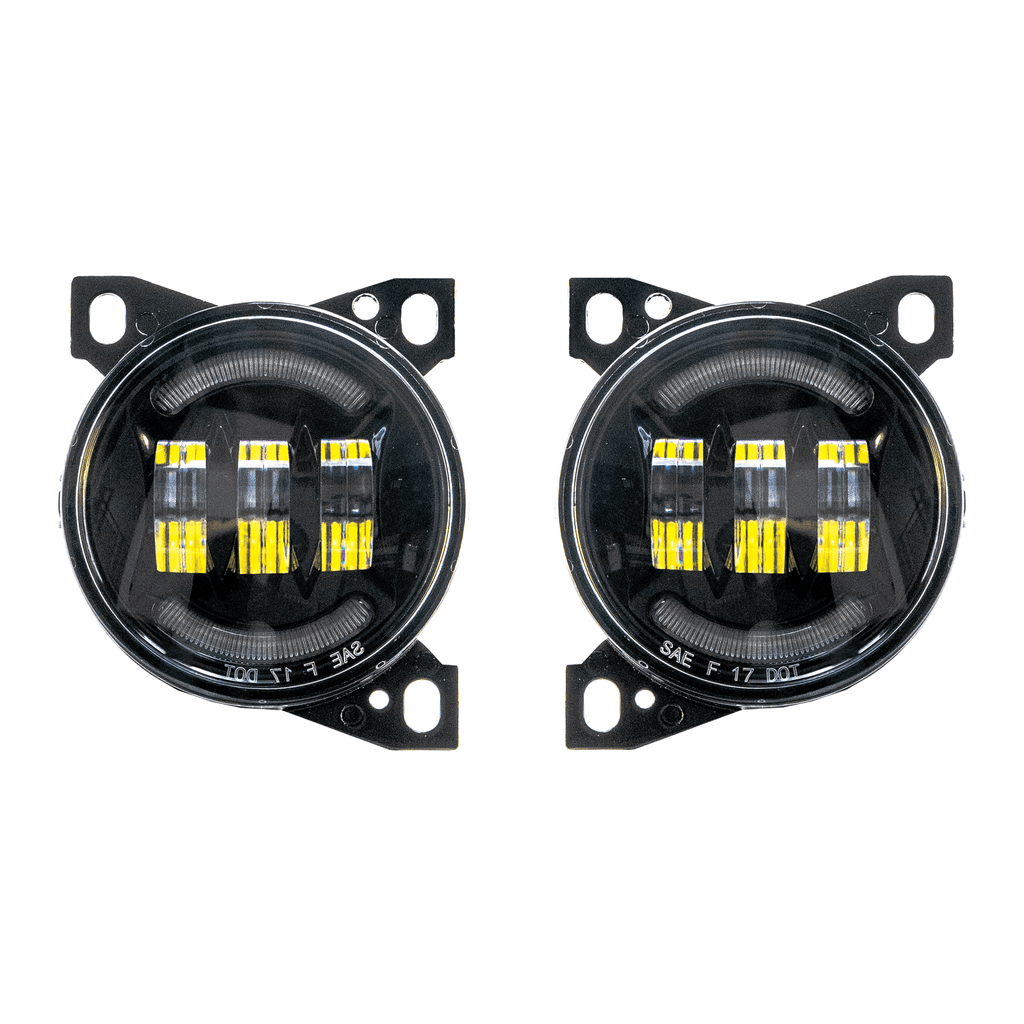 Introducing the Brilliant Kenworth T-660 LED Fog Light, the perfect upgrade for your Kenworth T660 and other compatible models. With its impressive features and top-notch performance, this fog light assembly is designed to enhance visibility and safety on the road.
The Brilliant Series stands out with its full LED functionality, incorporating high-intensity chips that provide a powerful light output of 1800 lumens. This means you can expect exceptional brightness, ensuring you have a clear view of the road ahead even in challenging weather conditions.
Features:
Full LED Functionality: The Brilliant Kenworth T-660 LED Fog Light harnesses the power of advanced LED technology, providing full LED functionality that ensures superior illumination on the road. The high-intensity LED chips deliver an impressive light output of 1800 lumens, offering exceptional brightness and visibility.
DOT SAE ECE Certified: Rest assured that these fog lights meet and exceed the rigorous standards set by DOT, SAE, and ECE. The certification signifies their exceptional quality, reliability, and adherence to safety regulations. Drive with confidence, knowing that you have top-tier fog lights installed on your vehicle.
Sleek and Durable Design: Designed with both style and durability in mind, these fog lights feature a sleek black colour that complements the aesthetic of your Kenworth T660 or compatible models. The impact-resistant polycarbonate lens ensures long-lasting performance and protection against impacts, while the UV-resistant properties keep the lens clear and prevent discoloration over time.
Wide Compatibility: The Brilliant Kenworth T-660 LED Fog Light is engineered to seamlessly fit 2008+ Kenworth models, including the T660, T700, T170, T270, T370, T470, and T440. This wide compatibility allows for easy installation, ensuring a hassle-free upgrade to your vehicle's lighting system.
Energy-Efficient Performance: With a low power consumption of 30W, these fog lights provide optimal lighting performance while minimizing energy usage. By efficiently utilizing power, they help preserve your vehicle's electrical system and extend battery life.
IP67 Rated for Extreme Conditions: These fog lights are built to withstand harsh environments and demanding driving conditions. With an IP67 rating, they are dustproof and highly water-resistant, ensuring reliable performance even in heavy rain, snow, or dusty off-road adventures.

2-Year Warranty: We believe in the quality and durability of our fog lights. To provide you with added peace of mind, the Brilliant Kenworth T-660 LED Fog Light Assembly is backed by a generous 2-year warranty. This warranty underscores our commitment to your satisfaction and ensures that you can enjoy the benefits of these fog lights for years to come.
Upgrade your Kenworth T660 or compatible models with the Brilliant Kenworth T-660 LED Fog Light Assembly and experience enhanced visibility, reliability, and style on your journeys. With its advanced features and exceptional performance, these fog lights are the perfect addition to your vehicle.
QUANTITY:
2x Fog Light Assembly
LIGHT OUTPUT:
1800 Lumen
CERTIFICATION:
DOT SAE ECE
COLOR:
Black
FITMENT:
2008+ Kenworth T660
2008+ Kenworth T700
2008+ Kenworth T170
2008+ Kenworth T270
2008+ Kenworth T370
2008+ Kenworth T470
2008+ Kenworth T440

LENS MATERIAL:
High Impact Polycarbonate (UV-Resistant)
WATTS:
30W
IP RATING:
IP67
WARRANTY:
2 Years
PART NUMBER:
KWFLRR
UPC:
628242450118
(2) LED Fog Lights
Industry Leading Warranty
Vivid Lumen Industries provides an industry-leading warranty on all products for manufacturing defects or product failure. If you have an issue with any product, please submit the online warranty form on our website. If your product is deemed defective in material or workmanship, Vivid Lumen Industries will issue an RMA number.
Please click here to file a warranty claim.