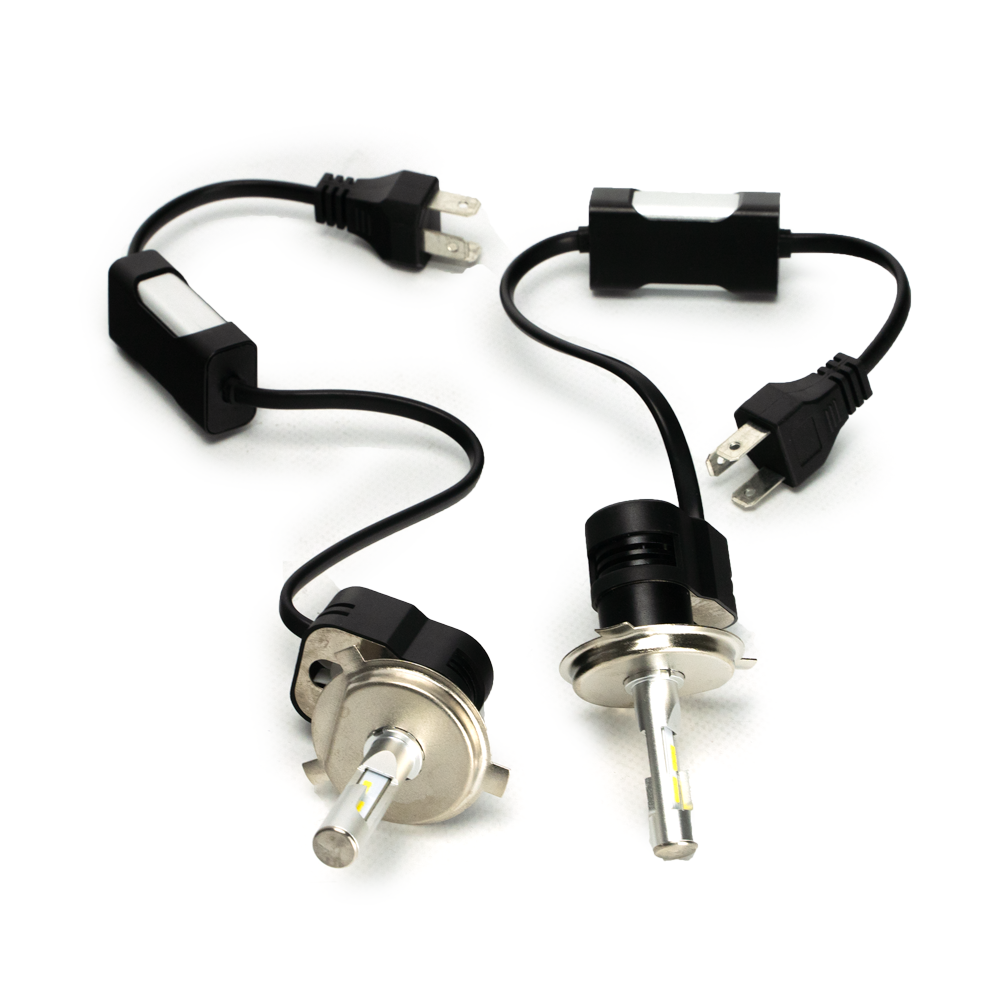 Enhance your vehicle's lighting with the Velocity Series LED Headlight Bulbs. These high-quality bulbs provide a massive upgrade from stock headlights. With efficient LED chips, they deliver a powerful 4,800 lumens of pure white light at a colour temperature of 5500K. The plug-and-play design ensures easy installation, and the bulbs are available in various fitments. The Velocity Series LED Headlight Bulbs offer durability and long-lasting performance. Upgrade your headlights today and experience improved visibility on the road.
Here are some features of the Velocity Series LED Headlight Bulbs:
Enhanced Visibility: The Velocity LED Headlight Bulbs offer a substantial improvement in visibility compared to stock headlights. With a high intensity of 4,800 lumens per bulb, they provide a brighter and more focused light output, allowing you to see the road ahead more clearly.

Efficient LED Technology: These bulbs utilize highly efficient LED chips, which not only deliver superior brightness but also have a longer lifespan compared to traditional halogen bulbs. LED technology provides better energy efficiency, reducing strain on your vehicle's electrical system.

Durability and Longevity: The Velocity Series bulbs are built to last. With a lifetime warranty, you can have peace of mind knowing that you are covered in case of any manufacturing defects or failures. The bulbs are designed to withstand various weather conditions, including rain, snow, and extreme temperatures, ensuring reliable performance over time.

Plug and Play Installation: Installing the Velocity LED Headlight Bulbs is hassle-free. The plug-and-play design means you can easily replace your existing bulbs without the need for complex wiring modifications or additional accessories. Simply remove the old bulbs and replace them with the Velocity bulbs, and you're good to go.

Safety Standards: The Velocity Series LED Headlight Bulbs to meet or exceed safety standards, ensuring they are road legal and comply with regulations. They provide a crisp and clear white light with a colour temperature of 5500K, which closely resembles natural daylight. This enhances visibility while reducing eye fatigue for both you and oncoming drivers.

Custom Fitments: The Velocity bulbs are available in a wide range of fitments, including 9004, 9005, 9006, 9007, 9012, H1, H3, H7, H11, H13, and H16. This extensive compatibility covers a broad range of vehicle makes and models, making it easier for you to find the right bulbs for your specific vehicle.

Upgraded Driving Experience: By upgrading to the Velocity Series LED Headlight Bulbs, you can significantly enhance your driving experience. Improved visibility and clarity of the road ahead not only increase safety but also add a stylish touch to your vehicle's appearance.
Remember to consult the provided cross-reference chart on Vivid Lumen's website to ensure the bulbs are compatible with your vehicle's specific bulb type. Enjoy the benefits of upgraded lighting performance with the Velocity LED Headlight Bulbs!
To determine if these bulbs are compatible with your vehicle's headlight system, you can refer to the bulb compatibility chart provided by Vivid Lumen. The chart can be found at the following link: Cross Reference Chart
| | |
| --- | --- |
| QUANTITY: | 2x Headlight Bulbs |
| WARRANTY: | Lifetime |
| WIRING: | Plug and Play |
| BULB COMPATIBILITY: | Click Here to see our bulb compatibility chart |
| INTENSITY: | 4,800lm (each) |
| INPUT POWER: | 35W |
| COLOUR TEMPERATURE: | 5500K (pure white) |